FHTA Spring Event C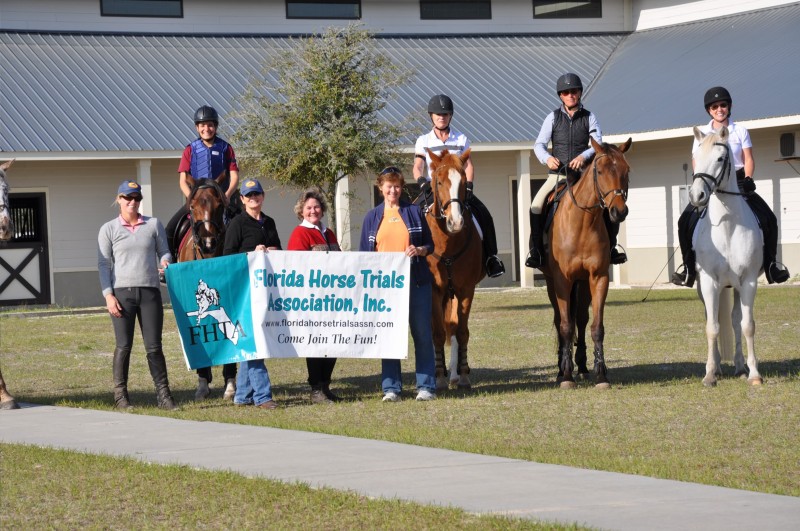 amp 2014
FHTA members, guests and instructors came together at The Oaks Equestrian Center on the weekend of March15-16 to learn more about our favorite sport of Eventing for an "all-inclusive" weekend of riding and socializing. This all took place at a beautiful venue where the horses were comfortably housed in either roomy stalls or green paddocks. The stables include attached office/kitchen/conference rooms.
On Friday afternoon, participants were welcomed with gift bags filled with donated hats, product samples, informative literature and horse cookies. After the horses were settled in, we enjoyed an evening pizza party, including a batch of Brett Rice's fabulous brownies.
Excitement was high at the Saturday morning breakfast where Carol Ogden introduced the instructors and reminded riders that the focus was on improving competitive skills. After fueling up on a hot breakfast, the Campers headed out for the first activity: the traditional group photo. Everyone, horses included, posed for a photo that will be used to promote FHTA and to let sponsors know how much we appreciate their support.
Riders with very inexperienced horses had their own Green Bean group, led by Chris Cox of Citra. Chris helped them introduce their horses to all 3 phases. In the covered arena, Pat Deasy of Alachua worked with riders on stadium jumping skills. Out on the cross country course, Hillary Irwin (currently wintering at Snooty Fox Farm in Alachua), got horses jumping forwardly and bravely over many types of obstaclesw. In the grass arena, Louise Waring, a local dressage judge, helped riders improve their test scores.
During lunch, we heard from our guest speakers. Micheline Jordan (Cavalor Feeds) had provided us with hats, samples, and coupons for our gift bags. At lunch, she discussed Cavalor Feeds products and told us about her experiences riding on the Canadian national team under David O' Connor. Renee Waters (County Saddlery), discussed the saddle manufacturing process as well as saddle fitting tips and the unique aspects of County saddles. Instructors were also on hand to answer questions.
No time for a nap on this afternoon! Riders moved  on to their second riding session of the day, while our Hospitality Crew made sure everyone stayed hydrated as well as took both videos and photos to record their progress. Once again, Ring Crews made sure instructors could focus on teaching and not moving jumps. At the end of the day, everyone enjoyed a catered BBQ dinner. Our volunteers provided homemade baked goods to finish off the meal. It wasn't long before everyone headed off to bed.
Sunday, a hot breakfast started off the day and the riders tacked up for their third riding session. The final session complete, the riders devoured lunch while listening to Don & Pat Collier discuss Start Box Etiquette. Don and Pat, the parents of international even rider Cindy Collier Rawson, have groomed at events in many countries and generously agreed to officiate the start and finish of the mini HT. They answered questions from the group and then Carol Ogden led everyone out for a course walk.
The main goal of The Spring Event Camp is to help riders improve their competitive skills, so we give them a chance to show off what they have learned! Starting with the Green Beans, riders performed a dressage test, completed a short stadium jumping round, and then tackled the cross country course, with fresh knowledge of how to negotiate the Start Box. Volunteers were on hand to record their efforts. After the horses were tucked away, the Awards Ceremony was held in the riders lounge. Awards were presented to the 3 top scoring riders in each group, thanks to our wonderful sponsors.
Everyone then pitched in to leave the stables/kitchen/office/conference room in the pristine condition that it was when we came. I hope that all participants left tired, but inspired, having learned how to make progress in each phase. In any case, we had the fun of greeting old friends and meeting new ones. Eventing just brings that out in us….
We are grateful to everyone that helped make the Camp a success; those that stuffed gift bags, welcomed riders, set up, served, and cleaned up meals, marked courses, set up rings and jump courses, provided ring crew assistance, provided water during riding sessions, took video and photos, hand out awards, cleaned up the stables, picked up supplies, sponsored hot breakfasts, helped run the mini HT by scoring, running score sheets, officiating at the start and finish flags, handing out awards, and all the myriad of things that make this Camp so well attended. We would like to thank our 2014 sponsors and volunteers: Carol Ogden, Micheline Jordan (Cavlaor Feeds), Renee Waters (County Saddlery), Kate Valdovinos (UF Large Animal Hospital), Jeffers Equine, Lori & Brett Rice, Chris Aytug, Amanda & Keith Lowe, Pat & Don Collier, Bradley Dicks of The Oaks, Marvin Webb, Trudy Richardson, Mary Smith, Cynthia Christen, Donna Arteaga, Bonnie Kraft, Bill Noffsinger, Lisa Koch, Sabra Tanner.
Plan on joining us next year!!!